If you're looking to bring something special to festive spreads over the holidays, this food and wine pairing featuring our crisp and full-bodied Unfiltered Chardonnay is a must try. Follow the simple recipe below to recreate this outstanding flatbread at home – we guarantee it'll be a hit at your next festive gathering!
RECIPE:
*Serves 2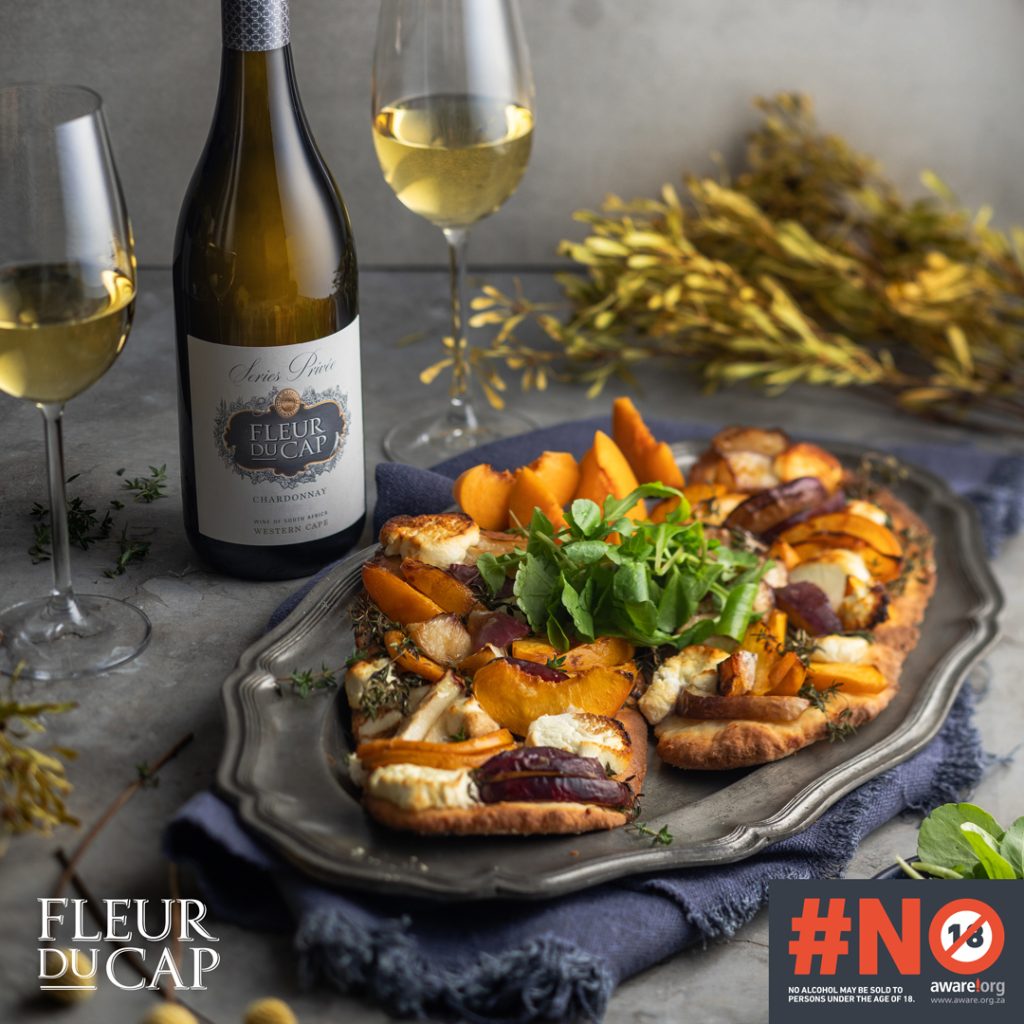 INGREDIENTS
For the naan:
2 cups (500 ml) self-raising flour
A pinch of salt
1 ½ cups (375 ml) yoghurt
2 tbsp (30 ml) olive oil
2 tbsp (30 ml) butter, melted
1 tbsp (15 ml) crushed garlic
For the toppings:
100 g chevin cheese
1 large peach, sliced
2 small nectarines, halved
A small handful of thyme
2 tbsp (30 ml) honey
2 tbsp (30 ml) balsamic vinegar
Basil, torn, to serve
Salt and pepper, to taste
INSTRUCTIONS
Preheat the oven to 220°C.
Sift the flour and salt together and stir in the yoghurt. Place on a floured surface and knead for 4-6 minutes or until smooth. If the dough is too sticky, add some more flour little by little while kneading.
Divide the dough into 2–3 balls (depending on your preferred size) and roll out, on a clean and floured surface, into oval shapes.
Heat a large pan over medium-high heat. Fry the naan for 2–3 minutes on each side or until slightly puffed. Combine the olive oil, butter and garlic and brush over the warm naans. Sprinkle with salt.
Arrange the chevin, peach, nectarines and thyme on both naan breads and season to taste.
Bake for 10–12 minutes or until the peaches start to soften and the crust begins to crisp.
Increase oven heat to grill and grill until the peaches are golden.
Combine the honey and balsamic vinegar. Drizzle over the pizza then serve with fresh basil and a glass of our Unfiltered Chardonnay.